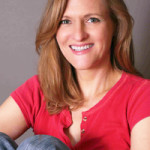 If you watched anime back in the 90's you probably were at least a little familiar with MAPS (which has one of the most hype openings ever) and the OVA adaptation of Tekken, both released by now-defunct hometown heroes ADV Films. Claire Hamilton played major roles in both of those shows as well as other popular ADV releases from that time period such as Soul Hunter, Adventures of Kotetsu and the Sakura Taisen OVA. She most recently appeared in Sentai Filmworks's release of Rurouni Kenshin's New Kyoto Arc as Yumi Komogata along with playing Zatanna, Huntress, Jinx, and other roles in Sony Online Entertainment's DC Universe Online MMORPG. She also played the title character in the point-and click adventure Angelica Weaver: Catch Me When You Can and she'll be at Comicpalooza next weekend to meet with fans and host some amazing sounding panels which you can read about more in this super rad interview I did with her a few days ago.
---
SCN: So I really don't even know where to start… What are you excited to see at Comicpalooza?
CH: I cannot wait to meet Nichelle Nichols! She's my hero since I was liiiiiiiiiiittle, I love her. John Barrowman, I mean, I'm sure everyone's talking about, you know, John, John, our buddy John. So many Doctors you can't even count 'em this time, there's a ton of really good stuff going on.
SCN: Yeah, it's going to be really good. Oh man. Also, I was looking through… ah, one of the main reasons I wanted to interview you was because you did a bunch of 90's ADV stuff and that's what I grew up on and it's such a big part of, well, it's not as big of a part of local nerd history as it should be, I feel it's highly overlooked in the grand scheme of things but man, like the list of stuff you were in, MAPS was one of my all time favorites.
CH: You're kidding! (laughs) That was the first one I ever did! So we had a uhm… so they brought in, uhm, it was a cattle call. Usually for voice work you audition by yourself in a booth or with two or three other people in a booth; it's very different than on camera, the audition process used to be anyway, everything's changed so much but that was one of the few cattle call auditions for voice work ever and, I mean, all of Austin TX was there. They opened the satellite studio Monster Island Studios here in Austin and we all went in and they basically taught us what they, you know, they were seeing if we could match the lip flaps and stay in character and pause and breathe at the right time and still have it sound natural. It was insane, I had no idea that's how it was done, I had no idea anybody ever did that, and then afterwards I had seen a couple of really bad dubs so I didn't tell anybody that I did this, but my first one was MAPS and it was crazy to get a lead and have to develop a character that you'd sustain through a whole series so it was fun. It was super fun. And it was MAPS, actually, somebody a few years ago, I finally decided to Google myself… (laughs) somebody had been looking for me to be on some panel and I was like wait, there's people who want to talk about this? People care? Oh my god! That was for some con in Ohio or something, I dunno, and it was passed already by the time I found it but that was how I discovered cons too so MAPS was a great introduction for me.
SCN: That's super cool, yeah, I remember being a kid in Blockbuster Video and that was one of the more prominently displayed animes back in the day of VHS.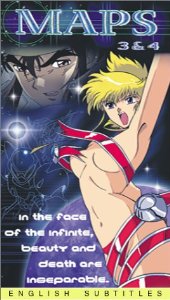 CH: Well, the second one especially because of her tape outfit. You know, there was a girl for a while who was cosplaying that second tape outfit and she was amazing too.
SCN: Oh wow.
CH: She made it work, it took some engineering to be able to wear that in real life and she did a good job.
SCN: I can imagine, oh man. There's some other stuff you did, Tekken: The Motion Picture, can we talk about that one?
(both laugh)
CH: Oh my goodness, so, I'm actually doing a panel at Comicpalooza called "Death Screams 101″ where we kinda talk about fighting and dying with your voice and all the stuff you have to do. You don't have your body, you know, you have to stay the right distance from the microphone the whole time and yet you're doing all this stuff so we kinda actually go through vocal excercises and all the fun stuff, but I always start that panel by, uhm, I collect screams, I love those screams, there's one scream from MAPS that I'm really super proud of and the scream where I die in the end of MAPS. I hope I'm not giving anything away… well, not MAPS, but in Tekken, when I get eaten by a surprise ghost dinosaur. That was a really fun scream (laughs). That was a hilarious show, from my end of it anyway.
SCN: What time is your panel, the Death Screaming one?
CH: I don't have my schedule yet! I'm doing a bunch of panels this time because it's been expanded to four days. It's kinda cool. I usually have like, you know, I'll do a couple of panels at this kind of con and then different panels at that kind of con, but it's kinda neat, I get to do a whole bunch of them at this one so we're doing the Death Screams, I'm doing an origami one, I'm doing the tentacle one, everybody loved that last year so I'm bringing that one back. That one was PACKED! I was shocked, I have a friend who I bring with me to help and he was running back and forth and the panel sitter was too. There was so many people, it was really fun. Everyone made cool tentacle jewelry things and it was great. So yeah, we're doing a bunch of little chic geek craft jewelry type stuff and some Q&As, that kind of stuff. It should be good, I usually find out my schedule the day I arrive so…
SCN: Oh man, that keeps things interesting though, I'm sure.
CH: Yes, I just show up with lots of big boxes full of supplies and hope for the best so it should work out. I love Comicpalooza so much. This is going to be my 3rd time to go, I've only been twice. The tentacle panel last year was up against Sir Patrick Stewart, I was so excited to see him, I was SO excited to go to his panel, but then it was like "oh whoops, I can't". I did get to have a quick little fawning over him for a moment in the back though so that was kind of awesome, he was amazing. He was very gracious, he was an amazing guest there.
SCN: Yeah, it was crazy that they got him, I remembered they announced it and so many of my friends went nuts.
CH: I know! And then my first year there it was George Takei!
SCN: YEAAAAH!
CH: I was sooooooo tongue-tied when I met him. (laughs) I was like "Thank you for all your work on behalf of the LGBT community!" and I was just on and on and on, I felt like such an idiot!
SCN: Yeah, I can't imagine any other way to react to meeting him in real life though.
CH: Everybody was all over him the whole time. He was so gracious and easy-going and so was Stewart! We'd been told not to shake hands with him because he's got arthritis in his hand, you don't want to hurt him, so I was keeping my hands underneath me so I wouldn't forget and try to shake his hand. And then he reached out! He reached out, he was so gracious with everyone! Last year's lineup was really good, Armand Shimerman was there, I go a little nutty for the Trek folks.
SCN: I remember last year they had Danny Trejo and my fiance actually, she was cosplaying a splicer from Bioshock so she had that mask on so she couldn't see and she almost like, we were walking around the artist's alley and she almost ran full bore into him. (laughing) He's a really tiny man and she's a pretty tall lady, like she's got about six or seven inches on me AND she was in heels and almost ran straight into Danny Trejo and I was so starstruck that I couldn't say anything until afterwards.
CH: You were going to let her mow-down Machete! (laughs) That's terrible! Yeah, he was really good, my boyfriend was trying to get him to do this thing, we did a few pictures where I was having people squish my head, you know, with shortening with the camera, so he was trying to get him to squish my head in a picture. (laughs) It didn't quite work out and I was like "you are not going back to ask him to do that differently, no directing Danny Trejo!".
SCN: Yeah, he was a really intimidating dude, he had his family all there and they looked like a posse all wandering around, it was so cool, actually seeing him in real life was nuts.
CH: Yes. It was incredible, but I think my favorite image of him ever was… he was so good in Breaking Bad.
SCN: YES.
CH: He plays everything so low-key, he keeps it all just really tight and controlled and he's so powerful and then you see him in person and he does that sweet smile and you're just like "oh, you really are a good actor".
SCN: Yeah, he's super cool.
CH: So who are you excited to see?
SCN: Oh man, uh, god, there are so many. The big one is Veronica Taylor, who did Ash in Pokemon.
CH: Oh, I looooove her! I got to meet her the first year! Oh she's great! She's done so much stuff too, I mean, she's got a huge resume. She's really good. When I met her I called my son to tell him I met the voice of Ash from Pokemon and my son was like "Which Ash was it?" (laughs) I told him and he was like "Oh thank god, oh that's so cool!" and went all nuts about it but first he had to know which one. He didn't like the other one, he only liked her.
SCN: Yeah, the other one, I don't even know who did that voice but I feel bad for them because of all the fan complaints and everything. It wasn't even like they did a bad job, it was just different from what people were used to.
CH: It's just different, yeah. I used to teach a looooong time ago and I remember the first time I came to school and like my contacts were messed up or something and I came to school wearing glasses and all my students were like "Miss! Is that you Miss! What happened?! What's wrong?! Why are you wearing glasses?!". You get used to something being a certain way but boy, they couldn't take that, they couldn't stand something different.
SCN: What did you teach?
CH: I actually taught in Houston for a couple years in the Heights area. It was at an elementary school, we were putting in an arts program, an Integrated Arts program. We did Media Literacy and all kinds of stuff. I had my kindergardeners doing stop-motion animation, we had so much fun. It was a really fun couple of years in there. It was good, we had a great principal whose whole goal was to make sure those kids were happy. He knew that they would learn if they were happy. Teachers that were not, you know, the cranky ones? He'd set them straight, "don't be cranky with mah kids, make em happy", cool school.
SCN: That's really neat. So you mostly do your voice acting out of Austin, then?
CH: Yeah, I live here, I moved here in the mid-90's. When I moved here I quit doing on-camera work completely. It was a good change for me, you know, you don't have to have a huge wardrobe anymore, you don't have to drive everywhere for every audition, well, back then I only had to drive to one place, my agent's office, and once we all got good decent technology we could do it from home. Much easier than the on-camera in the audition sense except you're directing yourself which is a whole other thing. You gotta balance spending hours getting just the right take and just the right inflection against the fact that you're probably not going to get it anyway. It's like that, I sorta look at every audition as a free workshop.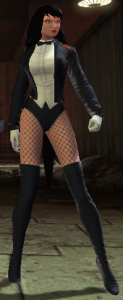 SCN: Cool. What else… DC Universe Online. How's that one going? I know they're cranking out new content for it, are you doing any of that? Do you have to go back to do new stuff after the initial recording? How does that work?
CH: Everytime they add a new world you get to do more stuff. The last one I really got to add to was… so I do Zatanna and Huntress, those are sort of like the main characters and generally there's something to add to those, but then we added Jinx, which was so much fun, and the other one was the ghost of Martha Wayne.
SCN: (uncontrollable laughing)
CH: You get to punch the ghost of Martha Wayne in the game.
SCN: Oh wow.
CH: That's pretty fun.
SCN: How do they even set that up, I mean, what is the context of that? That's so bizarre.
CH: Yeah, well, I only found out later long after we had recorded it from someone who was playing the game. Apparently once they're in that ghost world they're not your friends anymore so that's why you wind up punching the ghost of Martha Wayne (laughing). And it was somebody different who did the voice of LIVE Martha Wayne. I can't remember who it was, somebody told me but I can't remember who it was.
SCN: I might actually have to play that now. That sounds really ridiculous.
CH: Yeah, there's some good stuff in there, they really keep that hopping and man, AMAZING voice talent because they have a lot of celebrity voice talent in that game, some really good people.
---
There is still no word as to when Claire's panels will be held at Comicpalooza but we will update this article when we find out. You can find her official Facebook fanpage here and if you feel like beating up Batman's dead mom you can play the Windows version of DC Universe Online for free here.