Janet Lee has only worked as a comics professional for five years. The first book she ever illustrated – Archaia's Return of the Dapper Men, written by Jim McCann – earned her an Eisner Award in 2010. She refers to this experience as "crazy," but the honors for her lush mixed-media work are unquestionably deserved. Dapper Men's vibrant pages burst with color, movement and depth, establishing a setting equal parts comfortably familiar and enticingly whimsical. Appropriate for a contemporary fairy tale of friendship, purpose, community, and curious little transmogrophers in fancy hats and sport coats.
Emma and Northanger Abbey adaptations for Marvel followed Lee's immediate success, pulling from her academic and professional background in – not to mention infectious passion for – British literature, specifically of the Regency era. Her joy for the material and painstaking research infuse the canon classics with a fresh look that makes Jane Austen's memorable characters seem even more real and inviting to a wider audience.
Lee has also worked on Lost Vegas, which reunited her with Dapper Men's Jim McCann, Once Upon a Time, and Mindquakes & Dreamscapes, among other projects.
Recently, she contributed illustrations to Silence in the Library's new edition of Pride and Prejudice, which exceeded its $20,000 goal on Kickstarter. We sat down with the delightful and enthusiastic Lee at Comicpalooza 2015 for a lively talk about Jane Austen, the role of comics in education, and the glory and majesty of Giant Science Deer.
—
Space City Nerd: In the intro to the trade paperback of Emma, Nancy Butler outlined what qualities she thought made Jane Austen such a timeless writer. What do you think? What do you think makes Jane Austen an integral part of the literary canon?
Janet Lee: For me, I think Jane writes about real people. She writes about people that you know every day. They may be from 100 years ago – almost 150, I guess, at this point – but they could be the same person. The guy that lives down the street from you. An annoying person. A fun person. I think that's why they translate so well into more modern interpretations like Clueless or even Austenland. These are people that you know, and they've always been around, so they ring very true.
SCN: We allllll know an Emma.
JL: Absolutely! In fact, it took me past college to really be able to read Emma because she's that girl that's in everybody's business all the time, and it takes you until you get older to realize that she means well and she has a heart of gold.
SCN: Right. She starts off as very shrill and nosy, but she has a very compelling character arc. She grows up.
JL: She does. Absolutely. And in a way it's one of [Austen's] more mature stories because of that. She's not necessarily a likable person to start with.
SCN: How did your background in Brit lit help you create the visuals in Emma and Pride and Prejudice? Were you given any input on the writing side of things with Emma because of this?
JL: When I was doing the Marvel projects, I got a real hands-on experience with it because, come to find out, we Regency-era fans are every bit as crazy as any superhero fan about making sure the costuming is right, making sure the feel of the project is right. So that was a bit of trial by fire and Nancy Butler, who was the writer, had had two other stories already underneath her belt beforehand, so she experienced the highs and lows of getting small things wrong.
She helped me a lot, to make sure that my hat brim sizes were right, little details like that. The hat brim has to be right, you have to have the pants length right, what length of dresses can date you by ten years! It's really crazy… that level of geekery. I took all of that with me into Pride and Prejudice.
But it doesn't just stop with the costuming. There are little things like how you were not meant to be so demonstrative during the Regency era or be wild and crazy. Even being expressive was frowned upon. In a way, it makes things easier, but you have to be able to use it properly. When we look at a Mrs. Bennet or a Lydia Bennet, when they're gesturing wildly it looks really out of place and you can see that they're behaving in a really gauche manner.
SCN: That's very interesting! Did not know that!
JL: …To the Regency geeks out there! Everyone else just went to sleep.
SCN: Has anyone ever told you that they went on to go read the novel?
JL: Actually, that's one of my favorite parts about doing the graphic novels – and hopefully now the illustrated [Pride and Prejudice] is that people that could not get into the books before are able to get into the books and give them a shot. And I think that's the beauty of it. You do have to be able to get past some language. You do have to be able to get past some style differences, and a really good adaptation will do that for you.
SCN: I think comics help make a lot of the literature that maybe you get introduced to in school that feels stiff because it's taught stiff… that makes it accessible, makes it visual, makes it more engaging.
JL: It does. And beyond that, look at kids for whom maybe English isn't their first language and they've got to learn something. Now you have visual cues for what these different things mean. On top of that, a lot of English teachers will tell you that one of the beauties of comics is that kids can easily see the different literary points in a book. You can see when the climax is, and it helps them break the story down. It helps kids understand the way stories are built. So comics help people learn!
SCN: What are some of the unique challenges to drawing an adaptation versus a script that's been written from scratch?
JL: Because I know Pride and Prejudice so well, it was less of a challenge. But scripts come in all different shapes and sizes, really. Some writers like to give you a lot more detail; with some projects, the writer likes to leave it up to your imagination. I've gotten scripts before where someone's told me, "It needs to be somebody destroying something. Any style you want to use for it is fine." And that's all the information you get about the page.
In a way, the Pride and Prejudice stuff is like that, but they went beyond that for me. For the Kickstarter specifically, I was allowed to pick which scenes I wanted to do. They made some suggestions, but I really got to pick the scenes I wanted, so it's fun! I get to be part of the book. I always wanted to do the scenes I always saw in my head, and now I get to put them out on paper!
SCN: What other literary classics do you feel would benefit the most from a comic adaptation?
JL: You know what? Comics are great for teaching all kinds of things, so I wouldn't even limit it to just literary adaptations. One of my favorite uses of the medium is The 9/11 Report, where you can convey a huge amount of non-fiction information in a fun and engaging way. No one could read that report, but you could read the comic. The comic is completely easy to understand. So honestly, I don't really think there's anything that couldn't benefit from a graphic adaptation.
I think it all comes down to picking the properties that are maybe the most popular, and are going to allow publishers to make money while exploring this new area. I think that's really the key to it.
SCN: Obviously, with Emma and Pride and Prejudice, you needed to hew close to Regency fashion, but what went into developing the distinct style of Lost Vegas and Return of the Dapper Men? I'm sure you did something right, because Tim Gunn loved it!
JL: That was crazy! And he has the little drawing I did of him
SCN: Oh cute!
JL: He makes frittatas for Jim [McCann]. They're friends. I know. It's crazy. I'm very jealous, secretly (not so secretly).
For The Dapper Men book, all the character designs were based on things I was just doodling. I made a big piece that was Magritte-inspired, with the bowler hats and stripey suits. It was originally a big six-foot piece – Jim owns it now – of these dapper men with canes raining down on the rooftops of Paris. And that was the genesis of the story.
I will admit that occasionally, during the course of things, I've gone, "Wow what was I thinking with the stripes all the time?" Especially when I had to draw 314 of them all the time. But it worked! And I still love it, secretly. I would do it again in a heartbeat!
For Lost Vegas, Jim specifically wanted something that had a lot of art nouveau influence. Beyond that, we tried to make things look exotic, maybe on the edge of not being human in some cases. The beauty of comics is that it's like the biggest-budget movie you could possibly have. I don't have to worry about costume designs and if it's anthropomorphic. I can make my designs look like anything at all. I can make a Giant Science Deer.
SCN: Giant Science Deer was my favorite.
JL: Giant Science Deer is everyone's favorite. Or Ink, who is just a blob-like oil slick that can telepathically link people. One of the two.
SCN: So what would happen if Ink merged with Science Deer?
JL: Telepathic Science Deer… it would be like Spider-Man merging with Venom.
SCN: I feel like it would usher in a new era of peace for humanity.
JL: It might! Although we did find out secrets about Ink during the course of the book that would make Science Deer very, very powerful if they merged somehow.
The inspiration for Ink came when Jim watched Skottie Young drawing at a convention at one point. He's always got this giant ink blot where he's wiping his nibs to keep working. Jim's thought was, "What would Skottie Young's ink blot be like if it came to life?" Apparently, it's Ink!
SCN: It did look very Skottie Young.
JL: And then it got very meta because he did a cover for us. Of Ink. So full circle. Circle of life.
SCN: It's a great cover, too!
JL: It was!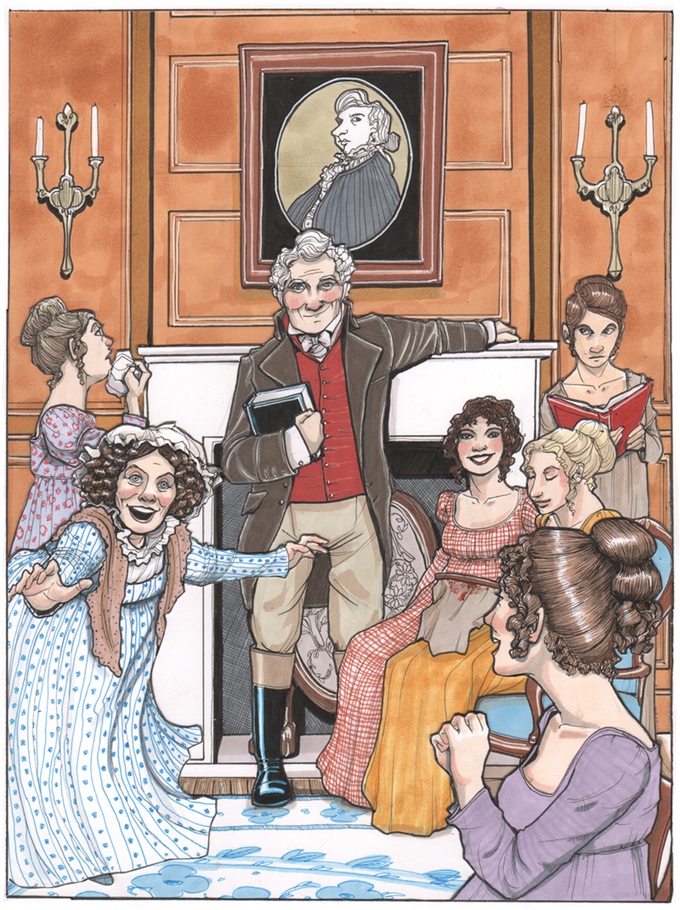 SCN: You mentioned Magritte earlier. What other art history shout outs did you include?
JL: Tons! Obviously, I'm very inspired by children's book illustrations, so the Arthur Rackham, John Tenniel, and W.W. Denslow. And then, more modernly, there's people like David Wiesner, who does a fabulous children's book called Tuesday about frogs that suddenly have flying saucer lily pads and they take over a town. It's amazing. One of my favorites! He does these beautiful paintings. There's a lot… I'm the weird person who, for Christmas, asks for the Caldecott list so I can see what the children's book illustrations are.
SCN: That's not weird. There's nothing weird about that.
JL: It's beautiful art! I just love looking at it. And then on top of it, I get very inspired by the textile work of Craig Thompson. I'm one of those people that feels like everything we read or see or listen to in some way informs our art. Sometimes I get very specific, like when I'm doing an homage to Windsor McCay, and sometimes it creeps in and people see it and I didn't even realize it was there.
SCN: That happens with writing, too.
JL: Yeah, I bet! It can happen for artists of any kind, all the time.
SCN: You've got a background in English and in publishing and corporate buying, so what led you to decide to try your hand at art, and what was the process like of switching careers? How did you come to mixed media?
JL: It was a weird thing. I had been working for many years as a national book buyer, which was very fulfilling. I started out buying mostly art books and graphic novels and that was a lot of fun and very creatively stimulating when you get to find out new things about different artists, different projects.
Eventually, I got a raise. I got a promotion. I was promoted to be in charge of the entire textbook buying group, and textbook buying – as you can imagine – is much less intuitive and creative and much more number-crunching. I loved the people I was working with, and I loved all the publishers I was working with. Everyone was fabulous, but the creativity was on the low end.
So I started doing gallery shows in Nashville. I sort of jumped off the deep end. I have no art training at all. In fact, the last formal art class I took in school was in 8th grade when my arch nemesis won the…
Alanna Thornthwaite, I'm sorry, you're a wonderful artist, but you beat me out in the landscape competition and I gave up on art for decades as a result!
She was amazing! I used to copy her occasionally. She's great, but, at the time, my poor little art teacher was like, "Are you taking art?" and I was like, "No, I'm going to be a writer!" That meant I was taking Latin in high school, because obviously writers must know Latin. Long story short, I didn't have any formal training. I would take a couple of classes here and there, like oil painting or printmaking, just for fun.
I hadn't really done anything with it, so my husband pushed me off the deep end one day. We saw a group that was doing pop-up shows around Nashville. You would pay $10 and you would show your art for one night, get feedback on it. If you sold it, great you got the money. If you didn't, you were out only $10, so it was worth it for me to do. I tried that a couple of times, and on the second time I started selling work. Then I started going to galleries and putting stuff in, then I started showing outside of the state, and then Jim tapped me to do Return of the Dapper Men and I've been doing book illustration ever since.
It was kind of a lucky and scary break. We won an Eisner for the first book, which is crazy, and then I started working for Marvel doing the Jane Austen adaptations, which is crazy for your second and third book. At that point, once I was doing the Marvel work, there was no way to work a 50-hour job and do the comic work on the side. So a choice was made, and that was scary because I went from a regular paycheck all the time to two freelancers in the family. My husband is a novelist and game scriptwriter, so it was a bit scary, but with a little hit or miss we've made it work and things are working out well for us.
SCN: And how did Jim find you?
JL: Jim and I were friends! We used to work at the same book wholesale company beforehand. I knew him a little bit before – he's going to kill me for telling this story. I met him at a dinner that a bunch of friends were having, and we wanted him to date one of our friends. Thank goodness he did not date this friend. I don't think their personalities would've worked out, but they're both lovely people. They did not need to be dating each other, so we remained friends, even after he went and worked at the book wholesaler with me. Ultimately, he left Nashville and went to New York to start working for Marvel. We've been friends for years. We in fact bought houses about a mile away from each other with the desperate hope that we could be on Trading Spaces together.
SCN: Awwwwwww!!
JL: We didn't turn in any documentation, so it never would've happened. They have to know that you want to participate in the show.
SCN: But you can still keep the hope alive!
JL: You can! He would've ended up with one of the good designers, and I would've ended up with, like, moths on the wall. That's the way our luck works between the two of us.
SCN: Having immersed yourself in both art and in literature, what are some of the interesting intersections between the two disciplines?
JL: For me, visual art was always about storytelling. I'm not sure I'll ever be an effective abstract artist. I like to set a mood with artwork, but I also like to tell a story or at least have a picture that's the genesis of a story in someone else's mind. So for me, the intersection comes either from the art growing out of a specific story, like illustrating a book, or the picture being the genesis of a story where you create an image that's for someone else to tell a story, either to themselves or to someone else.